The International Journal of Energy and Environment (IJEE) is the official journal of the International Energy and Environment Foundation (IEEF) providing an international forum for the fields of Energy and Environment. The journal aims to provide the most complete and reliable source of information on current developments in the field. The journal enjoys the full support of the IEEF, who provide funds to cover all costs of publication, including the Article Processing Charges for all authors. The emphasis will be on publishing quality articles rapidly and making them freely available to researchers worldwide. The journal has a distinguished editorial board with extensive academic qualifications, ensuring that the journal will maintain high academic standards and has a broad international coverage. There are no page charges and all articles are indexed by the major indexing media therefore providing the maximum exposure to the articles. The scope of the journal includes: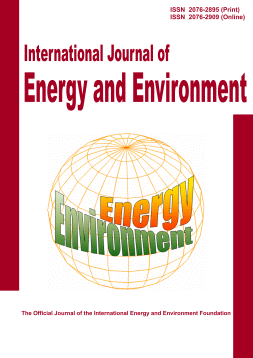 Int. J. Energy Environ. (IJEE)

ISSN 2076-2895 (Print)

ISSN 2076-2909 (Online)

Issues per year: 6
Online access: Free (Open Access)

Page charges: Free (There are no page charges)
Subscription for one year, 6 issues (Hard Copy): $600
Energy
Fuel cells.

Hydrogen energy.

Solar energy conversion and photovoltaics.

Wind energy.

Hydro energy.

Micro- and nano-energy systems and technologies.

Biofuels and alternatives.

Hybrid / integrated energy systems.

Energy conversion, conservation and management.

Energy efficient buildings.

Energy storage.

Energy and sustainable development.

Advanced visualization techniques, virtual environments and prototyping.
Environment
Energy and environmental impact.

Assessment of risks from water, soil and air pollution; effective and viable remedies.

Evaluation and management of environmental risk and safety.

Environment and sustainable development.

Environmental education and training.

Analysis of contaminants.

Contaminant source characterization, transport and deposition.

Multi-media sampling / monitoring (air, soil, water, sediment).

Quality assurance / control.

Legislative issues and guidelines.

Remediation.

Climate change.